Cleaning and sanitizing are important when it comes to maintaining hygiene.
Often, people overlook it until it is time to apply extreme measures.
However, we should pay just as much attention.
Different parts of your home required different methods of cleaning, disinfecting and sanitizing.
The procedure you would apply to your HVAC system is not the one you use on your car or the same as the one used in your pantry.
Mastering all these can be difficult.
However, with SOS Mitigation NYC, you only have to wait and enjoy the final results of an intense cleaning and sanitation process.
So, what do we offer that makes our sanitizing in Carnegie Hill, NYC so different from other players in the market?
Methods of sanitizing and disinfecting
Different ways of sanitizing require different approaches.
Our sanitizing services mainly revolves around two main ways. These include:
Thermal sanitizing and disinfecting
Thermal sanitizing can also be heat treatment.
Here, we utilize steam and hot water to kill the bacterial lingering on the surfaces.
Despite this method being selective, it works for the applications we intend.
Depending on the level of contamination, pH, time, and even the temperature of the water, we apply heat treatment differently to different conditions.
For instance, steam can be used to clean items locked in chambers.
On the other hand, for hot water, you would need to immerse the object inside.
However, heat treatment poses the risk of complications, especially if these objects do not dry properly.
Chemical CDC Approved Disinfecting and sanitizing
Contrary to the expensive nature of heat treatment, our chemical sanitation process tends to be cheaper.
However, we are keen to abide by the CDC approved disinfectants, especially when dealing with deadly disease-causing organisms.
We work in partnership with manufacturers who provide the best chemical sanitizers.
That means we only use chemicals that are approved for food contact surfaces, kill germs and viruses fast, stable under all applications, and inexpensive.
Also, we go for soluble and detergent-like sanitizers that are harsh on the germs but soft on the user.
We ensure that our chemical sanitizers are not only non-toxic but also have a very low, close to no level of corrosivity.
When we disinfect your home, car, or office, we want to leave it clean and safe.
That is why we have the best methods of sanitizing.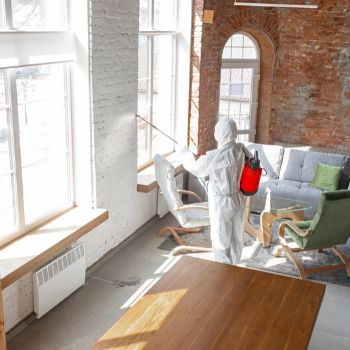 Types of cleaning methods we apply.
Depending on the complexity of the surface being disinfected, and the extent of germ spread, then you can use different methods to disinfect their property.
We make use of three primary techniques that prove to be valid to date. These methods include;
Manual cleaning and sanitizing
For manual cleaning, we first remove any debris from the surface by running the object under running water for some time.
Then, using sponges and rags, we remove any soil top-layer dirt.
Then, we spray the objects with a neutral pH solution to help break down the dirt on the surfaces.
After that, we go ahead and use detergent to clean, all while manipulating the moving parts to expose sections that may be hidden.
After using a soft sponge to clean the object, we then rinse it under running water, before finishing off the final rinse with purified water after some visual inspection.
We then dry the objects after confirming they are clean.
All these steps are necessary to avoid any reactions between the material and the cleaning agents.
Mechanical cleaning and sanitizing in Carnegie Hill, NYC.
Mechanical cleaning is a lot like manual cleaning.
The only difference is the fact that we now load the objects into a washing basket for automated cleaning.
Whenever we are performing a mechanical cleaning, it is not always necessary to dismantle the whole object to pieces.
Clean-out-of-place
This is a method of cleaning where we move objects from their areas of operation to a different location for cleaning and sanitizing.
Usually, we have to disassemble the objects, take them to a remote location, clean them, and later inspect them during reassembly.
Immersion cleaning and sanitizing
This is a cleaning method we apply to most of our activities.
Usually, we immerse the whole object into containers filled with the cleaning solutions.
We then let the objects soak before we take them out, clean them thoroughly, and inspect them before drying them and returning them to their area of use.