Staying in a healthy environment is always a good sign of security.
You know that it would be rare to contract infections that come from contaminated surfaces.
Also, you have some peace of mind knowing that you have done your best to keep your home free from viruses, bacteria, insects, mold, and even rodents.
So, why should you go through all that trouble to keep clean floors?
What do you gain when you decide to hire a team of professionals to help you clean up your home? We have always been at the forefront of fighting bacteria and germs.
So, amidst the spreading COVID-19, we are even more dedicated to offering solutions that will protect you from cross-contamination.
Why do I  need sanitizing and disinfecting services
There are many reasons we could all feel the need to sanitize your home.
Maybe, you are dealing with a severe case of mold and mildew infestation.
Alternatively, you could have a patient coming from the hospital, and you need to protect them from re-infection.
Conversely, you could be preparing for a newborn baby, or when the baby starts to crawl.
Either way, there are many reasons why you could choose to sanitize your home.
So, what is the ultimate goal?
The impact of sanitizing is that you now have a healthier living environment.
Also, you stay protected from infection, causing organisms.
Overall, if there is a chance that there are microbes transmitted via coming to contact with a contaminated surface, then you can take care of that.
Types of disinfecting techniques we use
When we ventured into business, we were hoping to deliver not only quality results but also long-lasting ones.
We started, we were involved in sanitizing techniques such as immersion, in and out of place, and the mechanical sanitizing.
Among these techniques, some of which are still very effective to date, we would dismantle the objects we were sanitizing, then reassemble them.
Alternatively, we sanitize the objects in their areas of operation without disassembling them or moving them.
Then, we started using electrostatic spray sanitizing techniques.
Here, we use a charging nozzle to charge the sanitizer particles, which helps them bond with the sanitized surface.
Effectively, the sanitizer stays in place for a more extended period and covers more ground than merely wiping the solution on the surface.
Our office and apartment sanitizing
It would be a shame if an investor walked into your office, and the first thing they notice is the dump air in there.
Alternatively, I presume it would be hard to find tenants to your chain of apartments if there is even the slight sight of mold once they come to inspect the house.
So, why would you leave yourself exposed to such vulnerabilities when you can deal with such severe problems in less than a day?
If you own an office or apartments for rent, and you are having trouble getting rid of the mold and the stench that accompanies, then contact us.
At SOS Mitigation NYC, we have some of the most reliable sanitizing in Gramercy Park.
Call us, and we will help you achieve impeccable results in a very short time.
Restaurant sanitizing services
With it being part of the most frequented service industry, and offering food, your restaurant must stay in its cleanest and healthiest state possible.
You could plan to clean it out, but once there is even a small infestation of mold, you risk having your license revoked by the state health department.
Why would you choose to lose your business?
Instead, why not hire a team for professional sanitizing in Gramercy Park, NYC to help you fumigate and sanitize your restaurant, hotel, takeout joint, or café?
We can help you achieve this at affordable prices and in the shortest period.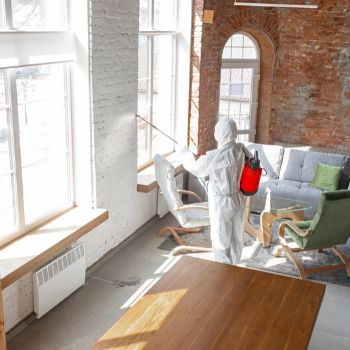 Cleaning, deodorizing and sanitizing your home
We play an essential role in ensuring that we help you maintain a safe home for your kids.
Other than covering grounds, all the way from the doorknobs to the kitchen cabinets, we also do bathrooms and toilets.
Also, if you need help finding a reliable waste disposal company, then we can help you with that.
Keep your home clean and safe from microbes today by giving us a call.