Sanitation includes exercises by the people and the government to ensure that there are safe drinking water and waste disposal among its citizens.
It often consists of a series of activities that could range from residential to industrial disinfection.
Sanitation plays an essential role in the daily running of lives and businesses.
That is why you can hear about a restaurant closing due to failure to observe hygiene.
However, we also play an essential role when it comes to maintaining a healthy living environment.
In these trying times of pandemics such as COVID-19, we must maintain the highest levels of sanitation.
We offer intense sanitizing in Long Island:
Basic sanitizing in Long Island, NY.
This involves the cleaning and disinfection of facilities that are not shared among households.
These facilities include lavatories and toilets.
When it comes to cleaning up, you need to be vigilant in doing so.
This is because germs and viruses are known to stick onto surfaces for a lot of time before they die out.
So, when you decide to clean your home, rid yourself of all the risks that come with improper sanitizing and disinfecting, then you need to hire the best team to help you.
Whether it is dealing with the septic waste, human or animal waste, we have got you covered.
We understand the importance of basic sanitation and offer these services at affordable prices.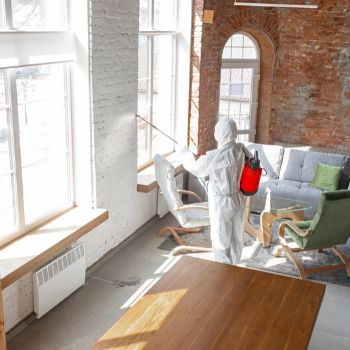 Emergency sanitizing and disinfecting
Emergency sanitation aims to contain the spread of harm due to sudden exposure to unsanitary conditions.
We aim to work hard to remove the threat, minimize its range, and restore a healthy living environment in the shortest time possible.
To execute our emergency sanitation services, we often consider the case before we know what action to take.
These include analyzing the environmental context of the incident, whether the event forces people to go out or stay in, the number of people that are at risk, and the number of resources we have in the field.
This way, we guarantee not only a response from us but also the best solution to your emergency sanitation problem.
Sanitation and disinfection
2020 started with a rough start.
All over sudden, we were required to keep distance, always keep a sanitizer close by, wear masks, and stay indoors.
For human beings, who are social beings, this lifestyle can be hard to uphold.
However, since it is in the interest of keeping one safe, we adhere to the guidelines.
However, all these measures are useless if someone known to carry the virus walks into your home, car, or office.
They leave traces of such germs on your property, and you stand exposed to the same.
However, you can always call for some disinfection services to take care of this.
With powerful electrostatic disinfection technology, we leave your home protected and safe to live in.
Call us today from anywhere in Long Island and receive the best sanitizing services.
Residential sanitizing services
When it comes to keeping your home safe, you need to deal with the curb waste, curb recycling, and garbage.
Being a resident places you at the needing end.
You need these services if your home is to remain safe from rats and raccoons. That is why we are here.
We work closely with the county government to help them reach each household and collect their waste.
We have trucks, drivers, and servicemen who will help you clean up your home and improve your living conditions.
Contact us for affordable prices, and be sure to have your home taken care of at least twice per week in our weekly routines.
Commercial sanitizing in Long Island
Offices, retail shops, apartments, schools, gyms, and even churches are at even higher risk when it comes to exposure to harmful viruses.
Since a lot of people go in and out, it is relatively hard to maintain a record.
So, the only way to keep yourself and other clients protected is to have a team of specialists disinfect your commercial buildings.
By doing so, you keep your clients and prospective clients safe from contracting diseases.
However, to successfully do this, you need to hire some professional sanitizing team.
We will ensure we do our best, using CDC-approved cleaning agents to keep yourself and your clients protected.