There are many products used for sanitizing, ranging from alcohol-based sanitizers to household bleaches.
But, I keep wondering, what are the best cleaning agents for sanitizing and disinfecting?
I surveyed the current product market and came up with a list of some of the most commonly used products to use.
These products can also achieve hospital-grade sanitation.
So, what are these products?
What factors do you consider when choosing a sanitizer?
The CDC approved disinfectants could be rare in your area.
As a result, you would go out to look for an alternative.
However, before you get a solution to use in your home, there are a few considerations recommended by experts.
For instance, does the solution you are considering kill all the pathogens that are bothering you?
For how long do you need to keep the solution in contact with the surface for effective results?
Is the product safe to use around your family and pets?
In terms of safety, consider the toxicity, flammability rating, and corrosiveness, among others.
What is the ease of using the product? Is it readily available for use?
Do you need to read a whole booklet to understand its usage or a few guidelines offered by the manufacturer?
Finally, consider the cost of purchase and application before you settle on a particular product.
75% alcohol-based hand sanitizer
Alcohol-based sanitizers are among the most effective solutions to deal with germs and bacteria.
They contain antibacterial properties with hand protection features.
From many manufacturers, you can get them in different amounts depending on what you want.
You can use the alcohol-based sanitizer in your home, office, school, or even in the car.
These alcohol-based sanitizers pack a load of benefits.
For instance, scientists have proven them to have a bacteriostatic rate of up to 99.99% this means they eliminate the micro-organisms once they are in direct contact.
Also, they contain a glycerin essence, which takes care of your hands.
They form a protective layer over the surfaces, effectively inhibiting the bacterial regeneration and spread.
Chlorine-based cleaners
Chlorine sanitizers are easy to come across and are very effective.
Since the products required for manufacturing are readily available, they become relatively inexpensive compared to the alcohol-based sanitizers.
From what experts have concluded, the chlorine sanitizers bind to the microbes, attacking their membranes.
Then, they prevent the enzymes in the organisms from performing metabolism, which in effect kills these pathogens.
From the chlorine sanitizers, you can choose from liquid chlorine, hypochlorite, and other organic chloramines.
Some household bleaches, when diluted correctly, can effectively sanitize your home.
Quaternary ammonium sanitizers
These products, also known as QACs, are ions.
From research, bacterial protein proves to be negatively charged.
As a result, the positively charged ions in the QACs attract the negatively charged material.
As a result, they kill the microbes.
If you are looking to sanitize your home from mold, bacteria, and viruses, then the quaternary ammonium compounds can help you do that.
Despite their non-corrosive and stable nature, these products are surfactants and are hence adversely affected by soil.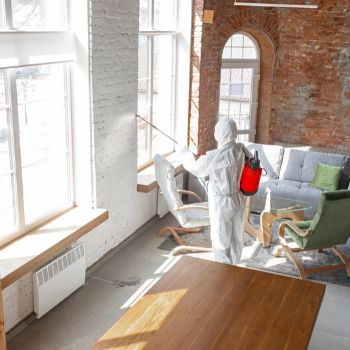 Iodine-based sanitizers
Iodine is a largely used compound when it comes to making hospital grade sanitizers.
They are effective when it comes to dealing with bacteria, viruses, mold, yeast, and other fungi.
Once you mix them with some surfactants, they can effectively eliminate any form of the microbes.
However, they have some significant drawbacks that make them hard to use.
First, they are relatively more expensive compared to other sanitizers.
Also, iodine is a colored compound.
As a result, these sanitizers tend to leave stains on surfaces, especially ceramic and plastics, which could be very unattractive.
Professional sanitizing in Lower East Side, NYC.
Being inexperienced when dealing with sanitizers can be a significant drawback.
You do not know what product to use and in what concentration.
The instruction could be explicit on how to use it on different surfaces.
For this reason, it is essential to ask rather than waste the product and still fail to achieve results.
So, how do we come in to help you deal with proper sanitizing in Lower East Side, NYC?
We understand how different materials and organisms respond to different products.
This way, we have the appropriate solutions which will effectively take care of the microbes, fungi, and protozoa.