Dusting, and cleaning the floor and surfaces around your home or office are some of the basic measures to keep our premises clean, bacteria, and virus free.
This might be a routine for you, but what you might not be aware of is that they keep you and your loved one from a lot of harm.
Therefore you will need to call a sanitizing company in Morningside Heights, NYC.
How to clean and sanitize your office.
A clean and safe working environment is one of the major aspects employees look for and need for job satisfaction.
For your workforce to be productive and happy when delivering their services, a healthy environment is essential.
For quality cleaning and sanitizing, outsourcing the service is more prudent so that your employees can concentrate on the core business of the firm, especially for big corporations.
Partnering with a company that can offer flawless cleaning services on a regular basis is therefore paramount.
Effective office cleaning should entail thorough floor cleaning, dusting all surfaces including the shelves, window and upholstery cleaning, and waste management.
The products used when cleaning should be friendly to the employees and equipment should be noise-reduced to prevent distractions.
Sanitizing and disinfecting is the major touchpoints and rooms around the premise is also necessary to reduce infection transmission.
Waste disposal at home or office.
Whether it is a commercial or residential setting, waste management is a vital activity.
Waste can be a breeding site for pests, insects, and other crawling animals which can result in illnesses to those around you.
Having a management procedure especially for businesses is significant for maintaining a clean and healthy environment for workers.
Some premises have an internal way of managing their waste while others will outsource the service.
Whatever means used, it is good to ensure that an environmentally friendly procedure is used to dispose of the waste.
Where recycling is possible, it is more advisable to do so, while still taking great caution for hazardous waste like chemicals.
With proper waste management, comes a healthy workforce which means no staff absence which results in a more productive firm.
Vehicle sanitation in Morningside Heights, NYC
Most of the time, we give more attention to the outside look of our vehicles and forget that its interior is equally important.
A professional will help you maintain the desired look and shape of your car as well as give a recommendation on how to maintain it.
At SOS Mitigation, Our cleaning products, equipment, and technique will protect your vehicle from scratches, swirl marks, and scuffs.
In the presence of any of these defects, we have knowledge of proper polishing that will restore the new look of your car.
As much as the look of your car is important, having a cleaner car interior is more significant.
That is why our skilled professionals will sanitize your vehicle after giving them a thorough cleaning.
Home sanitizing company in Morningside Heights, NYC
Going back to a clean and fresh looking home has a relaxation feeling on its own.
Executive clean-up for homes means giving attention to every inch in your home.
Be it the walls, any crevice, shelves, drawers, and every room.
Dusting surfaces, getting rid of cobwebs, and proper waste management are some of the little things that count in maintain a clean and healthy environment for your family.
Besides the surfaces that are visible, the condition of the invisible surface like inside the vents, walls, and ceiling also count.
That is why professional help is vital periodically to ensure that there is efficient and clean air circulation in and out of your home.
This is only possible when the HVAC system is cleaned to remove accumulated debris.
Using disinfectants and CDC-approved sanitizers that are user friendly in all touchpoints around your home will help to keep your family at bay with infections.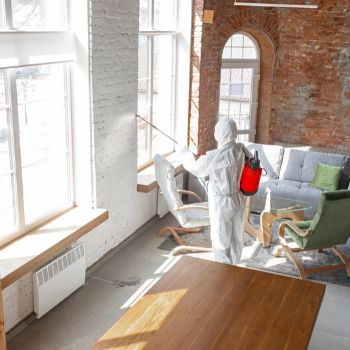 Professional sanitation in Morningside Heights, NYC
Maintaining a healthy nation begins at an individual level.
Avoiding contact with many people helps to reduce the spread of infections.
However, since you cannot avoid everybody, taking a personal initiative to sanitize has an effective impact.
Washing your hands regularly with running water and soap helps to kill germs.
Purchasing a sanitizer can be more effective since you can carry it with you when running your errands.
Preventing infections is better and cheaper than treating them.
Play your role today and help conserve a healthy and safe nation.