When it comes to water damage, emergency action is not an option. Water damage comes in different forms caused by various situations. Water damage restoration helps to mitigate any challenges and return systems to their original context. Water damage restoration in Queens & Brooklyn is the time-sensitive process of restoring your property after water damage.
What are the four steps of Mitigation process? View our gallery.
SOS Mitigation is a leading water damage restoration service located and operating in Queens, NY, and its surrounding areas. Call SOS Mitigation today to schedule a meeting with our local water damage and restoration expert in your local area.
Water Damages
We have compiled a list of the types of water damage.
Sewage backups. Ensure that your main wastewater pipe is fitted with a backflow valve to prevent sewage backups.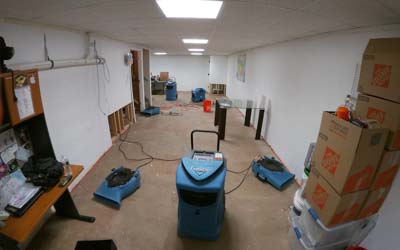 Flooded basements.
Installing a sump pump drainage system helps to drain away excess water from flooded basements.
Before & After
Bathroom Water Damage Restoration
Roofs.
Ensure the drains are inspected regularly and cleaned of any debris or sludge.
Overflowing sinks. Sink overflows can cause extensive water damage, either by blocked/ slow drains or leaving the faucets open.
Water heaters. These appliances do not always last forever. When the tank is damaged by corrosion, there is often leaking water that seeps through walls and floors, causing further damage.
Contact our water damage restoration experts to diagnose the situation and recommend the appropriate course of action.
Our Services
We provide a wide range of water damage restoration services. These include;
Water damage inspection and assessment
Water damage mitigation
Emergency water damage restoration and repair
Flooding and Storm damage
Insurance claims, among others.
Immediate action is always advisable at the first sign of water damage in homes or businesses. Call us now, and we will respond within 90 minutes to dry and restore your business before any further damage occurs.
Emergency water damage restoration and repair is the immediate process of extracting water and utilizing drying equipment to dry your structures and property and restore it to the previous condition and better. The restoration and repair takes a few days or so, depending on how fast you will call us.
Before & After
Basement Water Damage Restoration
What about Insurance Claims?
Unfortunately, most homeowners are unaware that they have home insurance for accidental water damages. Our expert water damage professionals can get 90% of all claims covered under insurance policies, whether it is a flooded basement, sewage backups, or anything severe. In addition, we work directly with insurance companies to increase your chances of fair compensation.
SOS Mitigation: Your Port Washington Water Damage Restoration Company When water damage strikes in Port Washington, NY, you need a reliable, professional, and experienced team
Read More »
Did you know that household water damage costs homeowners around $20 billion annually? Whether you suffer a small leak or a significant flood, water damage
Read More »
Water Causes Serious Damage to Your Home and Your Health Water damage happens quickly, and if the problem isn't taken care of just as fast,
Read More »
Flooding and Storm Damage
Damage from storms can take several forms. These include a tree falling and causing impact damage or subsidence. It might cause wall and foundation damage from the flooding. In addition, lightning strikes can cause fire and impact damage, further leading to property damage and injury.
Call us if your home has suffered flooding and storm damage. If you doubt whether the storm damage has caused any structural problems or noticeable damage to loadbearing elements such as roofs and walls, do not enter the house until our professionals arrive.
Our Water Damage Restoration Process
Emergency Contact
An immediate response is critical after a water damage event such as flooding and storm damage, water heater, or burst pipe. We do not take our time when it comes to your safety and your property.
Our water damage restoration is a 5-step process that begins with thorough assessments before deploying our industry-grade tools to do the restoration job.
Fortunately, we will walk with you throughout the restoration process to allow you accountability and guarantee customer satisfaction. Each of these steps below serves a fulfilling purpose to ensure that are all contaminants and water are extensively removed.
Inspection and Damage Assessment
Our experts conduct a thorough damage assessment of the water-damaged areas. During the inspection, our specialists will make conclusive assessments to categorize and classify the level and nature of water damage.
The experts will examine the materials' porosity in the affected surfaces to determine how much water these surfaces have absorbed. Then, we use high-grade moisture detectors, including moisture scourers and hygrometers, to measure the damage level and estimate the work anticipated.
Our inspectors will also identify the water source to stop the water and determine the water contamination levels.
After the inspection and damage assessment, we will give you an approximate time and costs needed to restore your home.
Water Removal/ Water Extraction
We employ our water extraction techniques to remove stagnating water, which exposes your home's structural integrity to ruin if ignored. Water removal/ extraction is a vital step when dealing with a flooded basement. This is because flooded basements are the most common areas for mold growth and breeding.
Our professional New York water damage restoration specialists use extractors during the water extraction process. These industry-grade high-power pumps and vacuums are designed to absorb all stagnant and surface water.
Some of the water extractors we use:
Portable Wet/dry vacuum
Truck-mounted vacuum
Submersible pumps.
After removing the water, we inspect the area for any residual moisture levels and identify whether the hardwood floors or carpeting needs to be removed or replaced.
Drying and Dehumidification
Once we have extracted all the water from your homes, we begin the dehumidifying and drying process. We industry-grade air movers and dehumidifiers to dry out any materials that are still wet or were too hard to access during the water extraction process.
Your home may appear dry, and it might not be easy to notice some materials that are still wet. However, if left wet, these materials will suffer further damage such as breaking, growing mold, or warping.
Simultaneously, our water remediation experts monitor moisture levels in the floors and walls of the water-damaged areas to determine whether your house is arid.
Cleaning and Sanitizing
After assessing the situation and drying out water, we then clean your home. Extensive, professional cleaning is a necessary step as part of the home restoration process. We strive our best to preserve much of your personal property.
Our cleaning process involves wet cleaning, dry cleaning, or spray-and-wipe cleaning. Our cleaning experts are trained in the safety and sanitization requirements of water-damaged homes. We employ the use of high-quality industrial solutions and tools to provide thorough cleaning.
Moreover, we use high-quality personal protective equipment when cleaning hazardous surfaces. Some of this equipment includes waterproofing clothes, protective gloves, and N-96 respirators.
Our cleaning professionals abrasive, foam, or immersion cleaning techniques to thoroughly clean every item in your home. If necessary, we also conduct mold remediation during this process.
We then dispose of all damaged materials removed after the cleaning process.
Restoration
Restoration is the last process of our water damage restoration process. We strive to return your home to its original state before the water damage. Our repair experts fix any materials that were removed or permanently damaged.
Restoration time varies depending on the damage level in your home. It could be a simple repair such as drywall repair, or it could require something extensive like heavy reconstruction.
Why Hire Our Water Damage Restoration Service?
SOS Mitigation is not just a company of water damage experts. We are made of the best team of professionals who understand homeowners' needs. Are you looking for a water damage restoration company? We've got you.
Below are reasons why we might be the company for you.
Highly Skilled and Experienced Operatives
Hiring the best contractors is the best investment you will make for your home. Therefore, it is advisable (by SOS Mitigation experts) to hire a professional who understands the task at hand. Our SOS Mitigation professionals are nothing short of that. We hire only the best contractors for our most discerning clients.
Our experts are well-trained, experienced, and certified to provide water damage restoration services of any magnitude.
We Liaise With All Insurance Companies
As previously mentioned, we work with all insurance companies to help with your insurance claims. Our experience with insurance companies makes us the ideal candidates for homeowners looking for proper valuation and fair compensation. Homeowner insurance enables you to get back on your feet, and we are here to ensure a smooth process.
24/7 Emergency Service
Are you looking for an emergency water damage restoration service? Worry not.
We are here to answer your call and needs at any time of day. SOS Mitigation will send an expert to assess the situation quickly as we come ready to start the restoration process.
Industry-grade Equipment and Techniques
We use top-notch equipment when extracting, drying, and restoring your water-damaged home. Moreover, our water damage specialists are trained to use different techniques for water damage restoration.
Unrivaled Services
Customer satisfaction is one of our major driving forces. Therefore, we aim to restore you and your property to the previous state in every possible way.
As such, we are always ready to handle damage regardless of its magnitude. In addition, we use top-grade tools and techniques that allow us to work even on the most challenging jobs.
True to fact, we have several clients who can attest to our top-notch services when it comes to home water damage restoration projects.
Hire A Pro
SOS Mitigation is a locally owned and operated water damage restoration company in Queens, NY. We have been proudly restoring water-damaged homes for over a decade in New York and the environs.
Are you looking for an expert restoration company?
Call us today to talk to our representatives. Rest assured, we are ready to thrill you with the best customer experience.