Water damage is famous for its risky nature.
If you have water-logged insulation, and the pressure becomes too much for your ceiling, then it could fall at any time.
For wet drywall, then there is a chance that coming to contact with it could expose you to some harmful elements.
For the roof, you could get exposure to lead and asbestos.
All these are what you need to avoid when handling water damage.
The worst part is when you have no idea where the water is coming from.
So, what do you do when you need to stop this damage?
The best solution is to hire some professionals to help you clean up your home.
In East Village, SOS Mitigation has got you covered.
These water damage restoration services include:
Mold Remediation
With minimal experience, you can quickly repair mold damage to your home.
However, there are some spots that you would instead replace than try to salvage.
When every home becomes susceptible to a mold infection, then it becomes necessary to learn a few tips about handling mold in your home.
The first and most crucial step is to protect yourself.
Mold is hazardous to your respiratory system.
You could develop an infection, have the worst case of chronic coughing, and sneezing, and if you happen to be asthmatic, then you will experience the worst of it all.
That is why when scrapping the mold of your wall, you need to have some gas mask and eye protection alongside some clothes to protect your skin.
With simple household products like cleaning agents, vinegar, and so on, you can clean the mold from your home more comfortable.
Sewage Backup Solutions
Whenever there is an obstruction to the flow of sewage in the sewer lines, then the water starts backing up into people's homes.
So, one day you come from work, find a pungent smell on your bathroom floor or kitchen sink, what do you do?
The first and most crucial step if to keep your distance from the water.
The black water contained in the sewerage could cause some serious human infections and, more often than not, promotes the growth of mold.
Therefore, when you notice this, you need to call for help.
Since we work hand-in-hand with the municipal, we will help you resolve the problem even if it goes beyond your sewer line connection.
Water damage repairs
The water damage repair process is a simple 5 step process.
First, you need to contact a professional emergency water damage restoration service.
You call for help when you notice water lodged in your home.
Next, you need to inspect your property for water damage.
Do this from a distance to avoid exposing yourself to health risks and electrocution.
Then comes the water removal process.
Here, the experts will use their pumps to drain the water from your home.
Next, there will be drying and dehumidifying.
They reach for the water you could not have accessed easily.
After that, they finish off by cleaning and sanitizing your home.
This step works to prevent mold from growing in your house after the water damage repairs.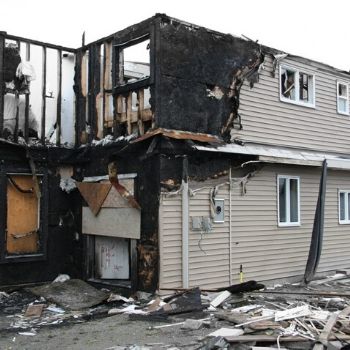 Storm damage restoration
Heavy storms and winds often end up damaging a lot of property.
It could range from a simple broken window to a severely damaged roof and fallen walls.
In such cases, staying in your house is not safe, as it could collapse at any time.
That is when you call an expert for help.
With the winds and hails bringing down trees, you will need a company equipped to handle all these debris and obstructions.
In East Village, SOS Mitigation stands out for its restoration works.
Whether you want to remove debris from your house, remove a fallen tree, repair and rebuild your home or even roofing, we have got you covered
Fire and smoke damage restoration
In the event of a fire, you call for emergency responders who will come to your home and put out the fire.
Once everything cools down, you realize that you are left with a house full of water, ashes, soot, and smoke damage.
Where do you start to repair your home after all that mess?
Well, by hiring professional fire and smoke damage restoration services, then you would worry less about the problem.
At SOS Mitigation, alongside our water damage restoration in East Village, we also offer impeccable smoke and fire damage restoration services at affordable prices.