Water damage can often extend from a minor wet carpet to a whole rotten basement.
The longer you identify the source of the water, the more extensive and costly the damage is.
So, what do you do when you realize that you have some severe water damage in your home?
The first and most crucial step is for you to keep safe.
Most of the stagnant water will have disease-causing microbes that you do not want anywhere near you.
Next, you need to call in a professional for their help.
That is where we come in.
At SOS Mitigation, we have the best solutions to your water damage troubles.
Our services include:
Mold Remediation
You can find mold in the spaces that are moist or come into contact with water regularly.
Mold grows at very high rates, and a small spore could spread to a large infestation in days.
So, when you notice those black spots on your bathroom floor or wall, you would better take care of it before it becomes a problem.
Mold often causes wood to rot, which then undermines the structural integrity of these wooden materials.
Handling mold can be hectic and risky for your health.
That is why when the spread is too far gone, and you might need some professional services to clean up the mold and do some repairs. That is why we are here for you.
At SOS Mitigation, not only do we offer you the best mold remediation services, but we also do everything we can to ensure that you are safe from a re-infestation.
Sewage Backup Solutions
An early sign of a sewer backup is a slow drain.
You notice that your bathtub, kitchen sink, and bathroom drain take longer to clear the water in them.
With the old infrastructure to drain the ever-increasing amount of sewerage, then you can expect the rate of sewer backup to increase, at least annually.
With broken drainage or clogged pipes.
These pipes mostly have tree roots growing in them, which then reduce the effective areas for the drainage, leading to slow drain and effectively the sewerage backup in your home.
To resolve the problem, you will need a lot more than a plunger.
That is where we come with our years of experience and expertise in the field.
We will help you regain normal flow in your house in no time.
Water damage repairs
After a water damage encounter, your home becomes vulnerable to infestation by all sorts of fungi.
Mildew, mold, and black mold become a possibility, especially when you do not put enough effort into drying your home.
By drying, we do not mean using a mop to clear the water off the floor.
That would still leave the floor wet.
We mean severe drying of your home, using dryers, fans, and dehumidifiers.
Now, if you do not have a dryer, a dehumidifier, or even a portable fan, you would need to buy some, which is very expensive.
That is why you call us in for some professional water damage control.
So, whenever you want some water damage restoration in Gramercy Park, do not hesitate to give us a call.
Storm damage restoration
After heavy storms, you are left with the task of cleaning up the mess.
There could be fallen electrical lines on your driveway, caved in roofs, flooding, shuttered glass, dirt, and debris lodged at your front door, and so much more chaos.
To clean all this by yourself would be impossible to handle.
That is why you need professional services to help you.
For instance, you would need a legally authorized expert from the city authorities to resolve the matter for the electrical lines.
So, all you can do is call in to report the damage.
Also, you would require heavy equipment, which is expensive to buy.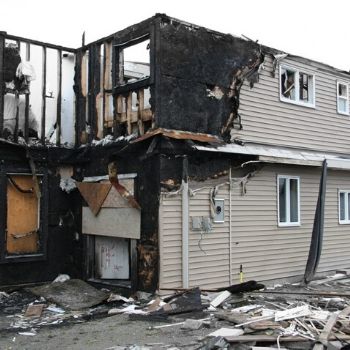 That is why you hire a service provider who has the necessary tools to restore your home to its glory days.
Fire and smoke damage restoration
From all the efforts of handling the fire in your home, you end up with water and debris lodged all over your house.
Your walls could collapse, and your roof can cave in.
As a result, you end up with a wrecked house full of water, smoke, soot, ash, and dangerous debris.
Handling this yourself could be tiresome and risky.
That is why you need the services of a professional damage control expert.
In Gramercy Park, SOS Mitigation has got you covered.